HAMUN: Smashing Success!
On Thursday, January 27, 2022, the Model United Nations team competed at Houston Area Model United Nations (HAMUN) conference for high schoolers. HAMUN is the oldest Model UN Conference in the southern United States and one of the largest conferences in Texas and the Southwestern United States.
HAMUN began in 1975 when a Memorial High School world history teacher, Andrea Flynn, decided to create a simulation of the United Nations as an educational program for Houston high school students. From its small pool of 18 student delegates, HAMUN has grown to include many high schools in the Houston area and throughout Texas. Today, over one thousand student delegates attend the conference.
This year the Village MUN team won the best largest delegation award! In addition, many students received individual awards for their competition. 
"I was able to achieve the award of Outstanding Delegate in my committee, an equivalent of second place in MUN lingo, which is something that I had only dreamed of a couple of weeks ago," says junior Joao Borges, "HAMUN, and MUN, in general, was one of the experiences that had the greatest positive impact on me ever since I arrived at Village, and I can't wait to see how much I continue to grow with the help of my fellow delegates." 
Vikings who earned the 'Best Delegate' award in their respective committees: 
Jay Natarajan representing Croatia in ECOFIN

Darsh Jaganmohan representing Austria in the ILO

Daniel Itkins representing Haiti in the CSW

Aditi Ramesh Iyer in Atlantis special crisis committee

Connor Huffman representing Lesotho in the Legal GA

Caroline Hsu representing Afghanistan in UNICEF

Alexander Ilacqua in the Crusades: Papal coalition special crisis committee
Vikings who earned the 'Oustanding Delegate' award in their respective committees: 
Rahman Ovezov representing the Russian Federation in the ILO

Rohan Bendapudi in Summit Wars special crisis committee

Parth Gupta in the Crusades: Islamic Empire special crisis committee

Joao Borges in the Second Punic War special crisis committee
Vikings who earned the 'Honorable Mention' commendation in their respective committees: 
Balaji Srikrishna representing Kenya in the CSW

Tanmay Rai representing the Solomon Islands in DISEC
Vikings who earned the 'Best Research' award in their respective committees: 
Kyle Marks representing Ireland in UNICEF

Nathan Dumrongthai in Second Punic War special crisis committee
Overall, the MUN team crushed competition in HAMUN and will continue to compete in other conferences such as NHSMUN and CTMUN Spring.
Leave a Comment
About the Contributor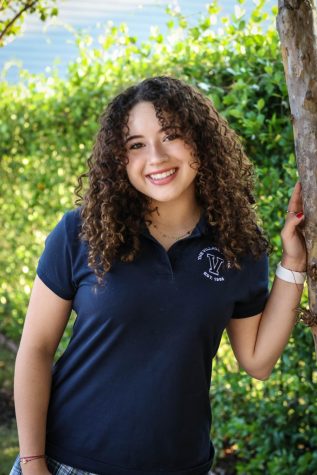 Regina Blenda Ayala, Editor-in-Chief



Regina Blenda Ayala is a passionate and driven senior who wants to make an impact every chance they get. They mostly connect with their Paraguayan...