Speech & Debate Team Crushes Competition in the First Month!
The Speech & Debate team anxiously watches their computer screens, awaiting the results of the prestigious Yale University Invitational Tournament. Junior Aditi Iyer's name flashes across the screen, and the group chat erupts in celebration: she had just championed the tournament in Original Oratory, beating out 67 other competitors. 
This is not the first time the Speech & Debate team has championed a tournament. In fact, within the first months of competition, this tight-knit group has consistently exceeded expectations in competitive success. 
"Throughout the course of our tenure on the team, it has grown immensely," says junior Alex Ilacqua, a debate team captain. "A group of us started our freshmen year competing not even making elimination rounds, now we are winning the national circuit tournaments and guiding a group of over 30 pioneers to do the same. It's truly amazing." 
Alex Ilacqua competes in Congress, an event within the debate side of competition. Ilacqua has already qualified for the Tournament of Champions (TOC), the most prestigious tournament for Debate that involves fierce competition between the top competitors from all over the United States. Regina Blenda and Jay Natarajan are Lincoln-Douglas debate team captains, with Natarajan octa-finaling in the Hendrickson Pflugerville Swing and Blenda placing 15th at the prestigious Yale Invitational. 
For the speech side of the competition, Aditi Iyer and Caroline Hsu are dominating the competition. Iyer has championed two tournaments in Original Oratory(Duke and Yale) and qualified to the Tournament of Champions. Hsu has championed the Alief Elsik Early College Knight Swing in Dramatic Interpretation. In addition to that impressive achievement, Hsu has also qualified for the National Individual Event Tournament of Champions (NIETOC), the most prestigious tournament for Speech in Dramatic Interpretation. 
Overall, the team is excelling in competition. With an ever-growing team of now 30 members, these students are guiding the way to build an established and successful Speech & Debate team. Andrew Barrett, the newly hired Speech & Debate coach, is providing ample support and opportunities for growth within the team. For updates on the Speech & Debates team's success, follow their Instagram: @vhs_forensics
Leave a Comment
About the Contributor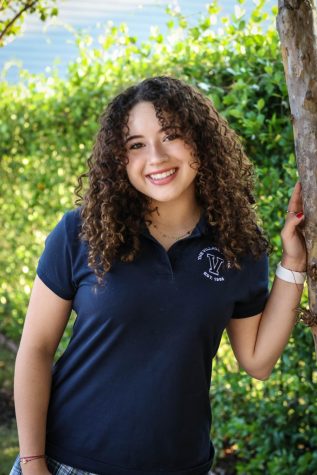 Regina Blenda Ayala, Editor-in-Chief



Regina Blenda Ayala is a passionate and driven senior who wants to make an impact every chance they get. They mostly connect with their Paraguayan...