Red (Taylor's Version) Makes a Classic Even Better
On Friday, November 12, 2021, at 12 am, die-hard Swifties restlessly clicked play on Red(Taylor's Version) on Spotify and youtube live streams and devoured her creative maestro for 2 hours as Red bled out to the world. 
Ever since Swift announced she was dropping Red (Taylor's Version), reinventing her 2012 classic, anticipation has run high. And the new Red is even bigger, glossier, deeper, and casually crueler. It is the ultimate version of her most gloriously ambitious mega-pop manifesto.
The musical genius has taken back what's hers and made it even better. From the engrossing musical production and lyrics to the featured artists, unreleased pieces, and a complimentary short film, this is beyond an album. It's a comprehensive work of art. The re-recorded songs were like bringing 2012 Taylor back to life and meshing it with the matured version of her. 
Red (Taylor's Version) benefits from Swift's sharper vocals and polished use of instruments—just as Fearless (Taylor's Version) did. It all brings an added clarity to her already sublime songs. 
Red is the second chapter of Swift's Taylor's Version project, after Fearless. However, Swift is also running a massive risk by redoing her old albums even though she is hitting her fiercest creative peak, dropping two of her biggest albums in 2020. Nothing on this scale has been tried before. 
For fans who devoured the original album, Red (Taylor's Version) operates as a profound time-travel machine of sorts, a throwback to their own growing pains. For new listeners, it's a strong introduction to Swift's prolific songwriting abilities. Her recipe is simple: She takes poignant personal anecdotes and connects them with hard-hitting, universal emotions. The album's narrative thread embodies the intensity with which a younger Swift processed relationships, identity, and her place in the world—through her artistry.
However, the most massive highlight of the album was the long-lost, 10-minute original version of "All Too Well", which turned out to be even better than what fans were hoping for. Taylor Swift takes her own masterpiece, tears it all up, breaks it like a promise, shreds her tapestry, and rebuilds it into a new heartbreak epic, twice as long and twice as beautiful. 
There has also been heightened anticipation surrounding the "All Too Well" short film, which did not fail to impress as well. The well-timed editing alongside the beautiful and real acting of Sadie Sink and Dylan O'Brien told an extremely honest story that hit every emotional note of Swift's lyrics. One of the most well-created scenes of the short film was an argument that occurred between the couple. As they argue back and forth in a kitchen setting, the camera never cuts. The scene is filmed in one continuous shot that captures the intense and realistic chemistry between the actors as they argue. Simple dialogue and believable chemistry made the scene relatable and heartbreaking. 
I would rate Red(Taylor's Version) an unapologetic 15/10 and would recommend it to anyone that wants to watch one of the most acclaimed, beautiful artists of our time reinvent herself in ways no one could ever imagine. 
Leave a Comment
About the Contributor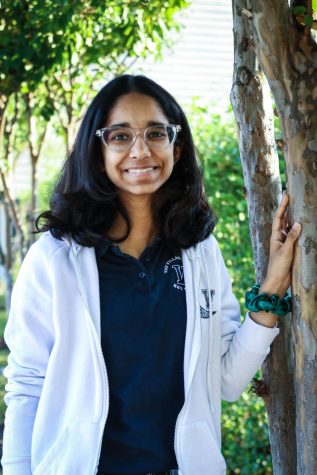 Aditi Iyer, Assistant Editor-in-Chief
Aditi Iyer is a senior, and this is her fourth year as an editor for The Viking Press. In addition to journalism, Aditi is an acclaimed competitor on the...