Village Students Find Success in the Students of the Year Cancer Campaign
Community service is an integral part of The Village School campus life, whether this includes numerous clubs founded for extending the efforts of NGOs or students avidly completing service hours. In the month of February, freshmen Vikings began giving back to the community by taking a step towards eradicating blood cancers through working with the Leukemia and Lymphoma Society (LLS) 
LLS  is a charitable organization dedicated to raising funds for blood cancers. Through its annual Students of the Year campaign, teams of students raise donations throughout the month of February by sending out emails, holding silent auctions, meeting with various companies for sponsorship, and holding bake sales. 
"For LLS, our main goal was to raise money and to spread awareness for the issue that is blood cancer," said freshmen Nathan Dumrongthai, an  LLS fundraising participant. "We did that by sending a lot of emails to people we knew and campaigning on social media. I opened a Facebook page which allowed people who I had not known to basically join in and help donate to our cause."
Freshmen Rohan Bendapudi led the campaign effort alongside his other ninth-grade teammates, Aditi Iyer, Nathan Dumrongthai, Saurya Nannapaneni, Parth Gupta, and Christopher Zhang. In total the team raised a grand total of approximately $30,000. 
"I think that [Rohan's] team did a really great job," said Goli. "Considering that I started it my freshmen year and we had smaller numbers, I believe that Rohan and the team really upped their goals for fundraising and were extremely successful in meeting them. And that's honestly really outstanding from a group of high schoolers with limited resources." 
LLS has seen excellent growth in the past couple of years-with more teams participating, more effective campaign strategies arising, and more guidance throughout the fundraising process. 
"I've definitely seen a lot of positive changes over the years," said Goli. "The entire campaign has expanded. From a group of five to six teams when I first participated, it has expanded to over twenty teams. We've also seen an increase in sponsorships and the general amount of money that's been raised-going from around 300,000 to nearly a million now."
On Friday, February 28, 2020, Bendapudi, alongside many of his teammates, attended the Lymphoma and Leukemia Society Gala on the last night of campaigning to celebrate the achievements of exceptional students and commemorate everyone on their hard work over the month of February. 
"We had a silent auction where the candidates were able to find very unique objects and put them up for auction," said Goli. "For example, there were tickets to a Rockets game or a weekend get-away to Lake Travis. Also, many celebrities came including Tracy McGrady. And then finally, the organizers started awarding specific candidates for service awards, volunteer awards, and the grand prize."
Cancer in all forms has been a growing issue for decades, and the change these Village School students were able to be apart of is something to be extremely proud of. 
"It started because I wanted to help out a friend, however by the end of all of this, I realize that it is more than that," said Dumrongthai. "I have learned the struggle cancer patients go through. I believe all of us owe it to them to so that they do not have to suffer the pain and trauma of being diagnosed with cancer. Nobody deserves it." 
Leave a Comment
About the Contributor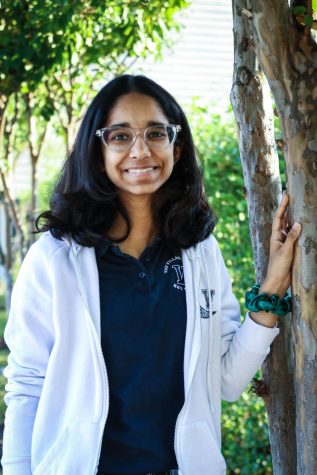 Aditi Ramesh Iyer, Assistant Editor-in-Chief
Aditi Iyer is a senior, and this is her fourth year as an editor for The Viking Press. In addition to journalism, Aditi is an acclaimed competitor on the...