TOUCHDOWN! First Football Game of the Season a Success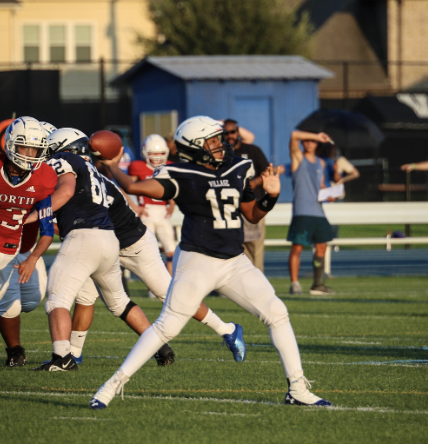 On Friday, August 26, 2022, thunderous cheers and spirited dance sequences electrified The Viking Stadium during the first football game of the season against Lutheran North High School, which concluded with a victorious score of 0-49, the first victory for the Village High School's football team in over a year. With a remarkable run by freshman Dajon Patterson (number 13) the team scored within the first 16 seconds of the game.  "They dominated on the ground," said coach Cantwell, the assistant athletic director, when describing the overall dynamic of the game. "I am very proud of the team. Their preparation for their week one opponent was evident as they controlled the game from start to finish."
This success was fueled in part by the football team's desire to prove their worth after last season's less-than-optimal results. "The hardest part was definitely preparing as a whole and changing our mentality," junior Raphael Berbain, a safety (number 10), said. "We knew that everyone was doubting us because of our performance last season…and we wanted to show that we are not a team to be overlooked." Although it was their first triumph in a while, judging by the organized leadership, vigorous offensive plays, and iron-clad teamwork they displayed during the game, it will not be their last. The team's ultimate goal for the season is to make it to the playoffs, the state qualifier, which takes place on Friday, November 11, 2022. To make it to the playoffs, the team needs to rank within the top teams in our division (TAPPS Division 1), which they can do by accumulating wins at games, to then go to playoffs. 
In addition to their strategic success, the team evidently had a blast and extremely appreciated the support they received from all their peers in attendance. "The best aspect of the game was running out of the tunnel…because when you look over at the hype crowd and team, you know that the game is about to begin," said junior Davon Stephenson, the quarterback and one of the three captains alongside Shay Boyle (12) and Philip Masick (11). Alongside roaring crowds, inner team spirit was instrumental to the football team's coordinated attacks and defenses. "The team gets along really well…which is really going to help us this season to advance further than before," Raphael Berbain said.
Overall, the opening game of the season was a confection of victory and delight, which will hopefully be replicated once more at this week's away game at Katy-St. Johns on Friday, August, 30 at 7 P. M. Let's go Vikings!  
Leave a Comment
About the Contributor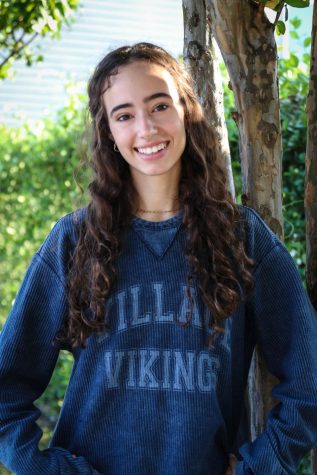 Solemei Scamaroni, Copy Editor



Solemei Scamaroni is a junior serving her first year as an editor of The Viking Press. An avid competitor in Speech & Debate and MUN, Solemei...