"The King's Jester": An Intelligent and Impressive Comedic Masterpiece
Five years after his Peabody-Award-winning Netflix special Homecoming King, on Tuesday, October 4, 2022, comedian, writer, and political commentator Hasan Minhaj returned with his second Netflix special "The King's Jester". After having sold-out shows for the past year, to the point where Minhaj had to continuously add new cities to his tour, the heartfelt, witty masterpiece is finally streaming and available for the world to relive. 
Since his previous Netflix special, a lot changed about Hasan and his life. His comedy style feels more confident and evolved from the get-go. The comedian is also performing for the first time after his wildly successful Netflix series Patriot Act which made him a media sensation and icon for political commentary. Hence, Minhaj shares the heartfelt and hilarious backstories of experiences that shaped multiple episodes of Patriot Act, including a teenage encounter with an undercover FBI agent in the wake of 9/11, a misguided attempt to interview the Crown Prince of Saudi Arabia, calling out Jared Kushner at a Time100 banquet, and a desire to antagonize one of the other fathers at his daughter's school. Fans that have been following the comedian's work for a couple of years now will deeply enjoy his gripping storytelling and backstories of the events in his life. 
There are also certain punchlines and jokes that the comedian flawlessly threads through the show. Some of my favorite jokes entailed his diss to doctors of osteopathic medicine, his reference to Adderall as a means of wanting to cause chaos or gain attention, the Patel Cartel, and Beena's signature phrase "Heyyyyy".  Much like we see in Patriot Act Deep cuts, Hasan engages with his audience in a playful and infectiously energetic manner. 
Another aspect of the show that I believed to be incredibly impactful was Minhaj's discussion of vulture funds. The comedian asks Brooklyn if he can trust them and goes off on an incredibly honest and hilarious breakdown about things he would like to confess. Although this rant can come off as mildly exaggerated, over-acted, and childish, Hasan makes a point at the end of it that hits home. He bluntly states, "And I believe that it is unethical to use money that's not yours to buy something that's not yours and then somehow make money that is yours. And then f*ck over poor people along the way."
But one of the best parts of the special had to be Hasan's ability to shift the energy of the room from low to high, somber to hysterical within seconds. The comedian explores frightening and vulnerable subjects throughout this show but skillfully relieves the tension after intensely honest moments. For instance, Hasan shared a deeply personal story about an anthrax attack in his mail that led him to almost lose his daughter and then less than 5 minutes later defused the solemnity of the room by talking about a scholastic book fair at his daughter's high school. This seamless junction between humor and vulnerability makes "The King's Jester" ceaselessly entertaining for an hour. 
However, some parts of the special fall short due to Minhaj's exaggerated delivery. Although he is a brilliant storyteller, there are stories that he over-acts, jokes that he over-plays, and pauses that he drags out. The energy sometimes feels like an unnatural overkill. 
In addition, although the performance feels more tethered to today's world than "Homecoming King", which takes most of its content from the '90s and early 2000s, it is less relatable for adolescents. As a high school student, watching Minhaj's first Netflix special "Homecoming King" has always felt more relatable, as it tackles the challenges of being Indian-American and growing up in the States. In his first major stand-up, Minhaj delves into stories of his childhood and early career, such as meeting his younger sister for the first time, asking a girl out to prom, and getting his first job at The Daily Show. However, "The King's Jester" goes into Hasan's experiences with fatherhood, fame, and freedom of speech. While Minhaj's ability to blend jokes and set them up has evolved, the topics covered in the special itself have become less relatable for adolescent audiences. 
Overall, I would rate "The King's Jester" 9.5/10 as a comedy special. Audiences who have followed Hasan Minhaj throughout the trajectory of his comedic career or are new to his work can enjoy this heartfelt, energetic 1 hour of well-constructed comedy.
Leave a Comment
About the Contributor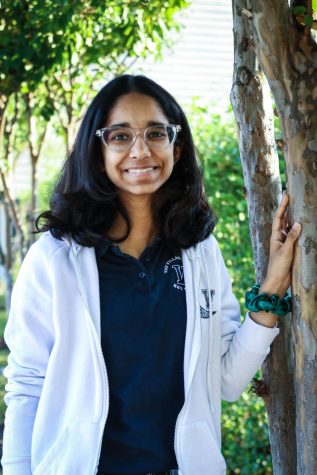 Aditi Iyer, Assistant Editor-in-Chief
Aditi Iyer is a senior, and this is her fourth year as an editor for The Viking Press. In addition to journalism, Aditi is an acclaimed competitor on the...