Funny and Bizarre: Smosh's Try Not To Laugh Series
On Tuesday, August 2, 2022 the Youtube channel Smosh released the 100th episode of their Try Not To Laugh Series (TNTL). The first episode of the Smosh TNTL series dates back to December 2016, eight years after the "try not to laugh" trend began. The original trend was a challenge where two or more people would watch funny videos and record their reactions while (surprise, surprise) trying not to laugh, whoever laughed the most lost the challenge. Since Smosh released their first TNTL video in 2016 they have made the challenge their own by introducing a hot seat version of the challenge. In their version, members of the Smosh cast sit on chairs with water in their mouths and, one by one, each Smosh member presents a comedy sketch with the goal of making those in the hot seat laugh and spit out their water.
Watching the Smosh TNTL series is a great way to relax and have a laugh after a long day at school. Every episode is full of well-made, bizarre and funny skits. Some of the Smosh skits are one-offs while others have become running jokes. For example, Shayne Topps' humorous "Dominos you're my favorite pizza place" skit. In this skit, he uses a prop phone and pretends to call different numbers, saying various things, until he finally "called" dominos and says "Dominos you're my favorite pizza place". Another example of this trend would be Tommy Bowe's "It's me, your mental illness" Skit where he poses as a mental illness that is there to give you a hard time. Even though the subject is dark, his jokes are always light-hearted, amusing and bound to make you smile.
In Smosh's 100th TNTL episode they decided to bring back most of the people they have featured on their channel. Big-time YouTubers like The Merrell Twins, Rhett and Link, Brennan Lee Mulligan and so many more. Each presented a skit to the cast members in the hot seats. Some did a sequel to skits they had done before while others did a brand new skit. The 100th episode of Smosh's series was a hit and was even #1 on the youtube trending page for a few days. This goes to show that Smosh has come a long way since they released their first TNTL episode and they certainly haven't disappointed.
Smosh's cast is full of energetic individuals who all have their own sense of humor which brings a wider spectrum of comedy into their videos. Whether you like dark humor, silly jokes, catchphrases, or goofy characters, Smosh's TNTL series always has a skit for you. Their series has always brought a smile to my face and I highly recommend watching their videos. 
View Comments(1)
About the Contributor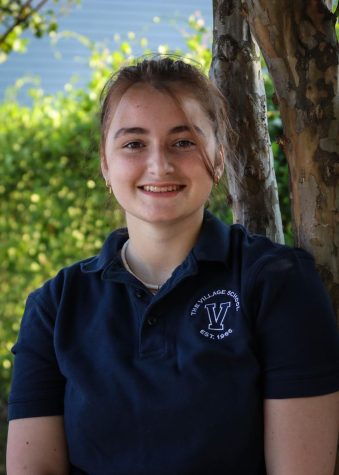 Valerie Gaynor, Staff Writer
Valerie Gaynor is a passionate and hardworking freshman at The Village School, and is currently in her first year on The Viking Press staff. Some of Valerie's...