Bridgerton Season 2: A Dazzling Romance
Content Warning: Season 1 Spoilers, TV-MA, mentions of sexual activity and alcohol
Amidst lavish gowns, twinkling jewels, and decadent balls, love blooms in the second season of Netflix's "Bridgerton," a romantic masterpiece perfect for an intimacy-craving youth audience emerging from the pandemic. "Bridgerton" is a fantasy, Regency-era television series adapted from Julia Quinn's book series and produced by television powerhouse Shonda Rhimes.  Recounted through the lens of the female gaze, the show is narrated by the notorious gossip pamphletist Lady Whistledown, who simultaneously entertains and terrorizes the aristocracy with each surfaced scandal. The main subjects of Whistledown's writings is the Viscount Bridgerton family, the luminous stars of the series colored through soft blues and lilacs. The first season followed the societal debut, romantic endeavors, and marital conquest of the eldest Bridgerton sister, Daphne Bridgerton (Phoebe Dynevor). Daphne's burning romance with the Duke of Hastings (Regé-Jean Page) set the internet aflame in the first season, but in this second season, the focus shifts to the eldest Bridgerton son and heir, Viscount Anthony Bridgerton (Jonathan Bailey). Although we still get glimpses of Daphne lovingly berating her siblings and swadling her adorable newborn, the show's new female protagonist is Miss Kathani (common name Kate) Sharma (Simone Ashley). Ripe with pining looks, glimpses of skin and sharp retorts, the highlight of the season was the love triangle between Anthony, Kate, and Miss Edwina Sharma (Charithra Chandran), turned slow burn, enemy to lovers' romance. 
At the start of the season, passion is not on the horizon for Anthony. Though he is preoccupied with finding a suitable wife, Anthony is determined to not fall in love. This focus is not uncommon amongst bachelors in the ton, whose goal is to get their fianceés, "wed, bed, and breed…to then move on to more pleasurable pursuits with more pleasurable partners." Such men see marriage as nothing more than a familial obligation, a duty to be fulfilled, and not as a journey to embark on with a true companion. Anthony is sadly among them. Yet, during his search for the next viscountess, he encounters Kate for the first time during a wild, dawn-skyed chase on horseback. Immediately, the chemistry between the two is electric. Though intrigued, he resists their budding romance, due to trauma. After his father's death (the late Viscount Edmund Birdgerton), Anthony witnessed his mother drown in her grief and was forced to provide for the family during her heartbroken absence. Therefore, he is resolved to fulfill his duty to his family and marry, but to do so solely in the absence of love, as to never experience the pain his mother succumbed to. His failure to realize that love is actually at the heart of familial obligation propels him to pursue Kate's younger half-sister as the perfect marriage candidate, Edwina Sharma. Nevertheless, Anthony is not the only one opposing their intoxicating attraction. The fiery Kate is as well. Kate's sole motivation at the beginning of the series is for her sister to marry for love. However, her purpose complicates when Edwina sets her eye on Anthony, launching the next episodes defined by the trials and tribulations of the heart's desires.  
On the other side of the street though, Penelope Featherington (Nicola Coughlan), aka Lady Whisteldown, the ultimate observant wallflower, writes on this series of hearty events. This season, we observe Penelope struggling to keep her identity a secret from all while continuing to grow her gossip empire. We also get a deeper dive into the thought process of her best friend: Eloise Bridgerton (Claudia Jessie), who abhors high society regalia and the constant comparison between herself and her perfect sister, Daphne. My only point of contention with the entire plot, especially the romance, is that at times it felt a bit… repetitive. Even though I myself am a lover of the repressed passion trope, there was a redundant amount of witty arguments, almost kisses, and longing gazes between Kate and Anthony. Although the hand grazes and wet t-shirts were enjoyable, there were too many of them to the point where the story became boring. Kate and Anthony's infatuation seemed to be leading nowhere with no distinguishable horizon for the two lovers in sight. Despite this redundancy, the amount of individual character growth and intimate conversations between family members, whether it be Kate and Edwina or Anthony and his mother, substituted my interest by keeping the storyline relatable.  
  On another note, although historically inaccurate, the costumes and settings of "Bridgerton" are a marvel to behold. They create a mystical, regal aesthetic enhanced by classical renditions of modern hits, such as the tune of a material girl. But beyond captivating cinematography and dynamic character arcs, what truly sets "Bridgerton" apart from other television series is how beautifully and effortlessly it incorporates cultural diversity. In addition to the subtle Indian accents and uses of Hindi dialect, the Sharma family's Indian heritage is celebrated in their costuming through jewelry, bright patterns, and materials. The Sharmas are also seen participating in traditional Indian rituals such as hair oil massaging and performing a Haldi Ceremony. Such cultural representation in  
The second most-watched Netflix show of all time, with over 82 million hours worth of views, is a vital step towards seeing less disrespect and tokenization across cinema. The fact that Kate and Edwina, the two most desirable and well-rounded women in season 2, are both dark-skinned Indian women is revolutionary for television so often dominated by the confines of colorism. 
This season of Bridgerton was truly a sight for sore eyes. It had an enjoyable and humorous plot, perfect for stressed-out students before the final stretch of the semester. I highly recommend this show, not only to period romance lovers but especially to those yearning for glitz and romance. But be warned, dear reader, for not long after immersing yourself into the fantasy of "Bridgerton", a new world of regency dialect, fashion, and drama will find itself seeded into your very heart.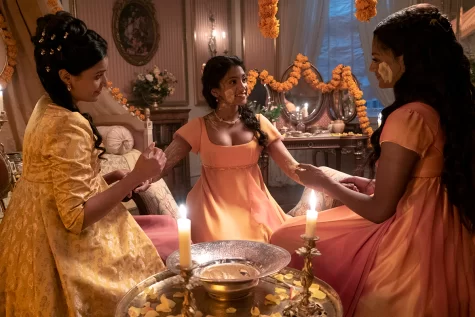 Leave a Comment
About the Contributor
Solemei Scamaroni, Copy Editor



Solemei Scamaroni is a sophomore serving her first year as an editor of The Viking Press. An avid competitor in Speech & Debate and MUN, Solemei...