Senior Night Football Game Celebrates Dedicated Athletes
On Sunday, October 22, 2021, the Village football team faced off against Beaumont Kelly. In the end, the Village Vikings lost the game 64-12. However, the game itself was not the main attraction; see, this was no ordinary football game. During half-time, the school took a moment to recognize the seniors on all three of our fall sports teams (football, cross country, and volleyball). This year's fall senior athletes include Sage Handin (Volleyball), Audrey Ajakaye (Volleyball), Zhi Zheng (Football), Carson White (Football), Austin White (Football), Juan Soler (Football), Jacob Romero (Football), Teguono Oketete (Football), Aaron Ng (Football), Daniele Monte (Football), Mason Johnson (Football), Marshall De Benedictis (Football), Huan Dang (Football), Christopher Constantin (Football), Balaji Srikrishna (Cross Country), Victor Zapata Perez (Cross Country), Resul Ovezov (Cross Country). Connor Nguyen (Cross Country), Nina Moynet (Cross Country), Anora Lee (Cross Country), Antonia Krueger (Cross Country), Amaan Ahmed (Cross Country).
"It was really a sight to behold!" said junior Moheb Mirza, a student spectator who attended the game. "Seeing our senior athletes get recognized in front of everyone was really cool."
The senior night was a beautiful way to celebrate Village's hard-working senior athletes, many of whom have been on their respective teams for several years. Our senior athletes have shown dedication and commitment throughout the past few months and are all perfect examples of what it means to be a true Village Viking! 
Leave a Comment
About the Contributor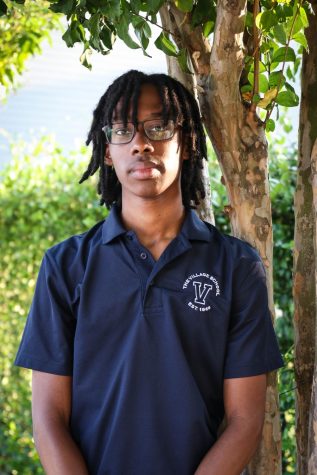 Jalen Bowers, Staff Writer



Jalen Bowers is a studious senior who is passionate about reading and film animation. He joined Viking Media to inform people and bring light to...