Shield the sun with Hero's new "Force Shield Tinted Sunscreen"
With summer right around the corner, our skin is aching for a new and effective sunscreen! The cosmetic brand "Hero" whose main goal is to "empower acne-prone skin" has just dropped their "Force Shield, Superbeam Tinted Sunscreen with SPF 30." It is said to "deliver a sheer glow with pearl and apricot pigments." Tinted sunscreens are all the rage right now and this cosmetic line's main focus is on acne prone skin, making it unique in a saturated market. 
This product is $19.99 and looking at other products from Hero, this price is very reasonable. Superbeam sunscreen though is not the brand's first sunscreen to drop – the "Superlight Sunscreen" with SPF 30 was the first sunscreen Hero released. This original sunscreen was not tinted and was green to bring forth a red correcting effect on the skin. It also had a matte finish whereas the "Superbeam Tinted Sunscreen" has a glowy finish. Although these differences are quite significant, the price of these two products is the same. 
The sunscreen is meant to be used after your morning skincare routine, but 15 minutes before any sun exposure and makeup application. It can also be used as a primer for makeup as it gives a tint but also is very lightweight. It can also be used as a moisturizer for particularly dry skin.
Hero's entire aim is to create products for all skin types and cater from sensitive skin to acne prone to dry and oily. This sunscreen does the job! It is extremely soft and not harsh on the skin, causing no irritation. Even with all of these features, the main function and characteristic is the fact that it is a sunscreen with mineral SPF rather than chemical SPF. This is a 100% mineral sunscreen, reflecting UV rays rather than absorbing them, unlike chemical SPF. The active ingredients sit on the exterior of the skin and work as a repellent to reflect the heat. The product itself is a very liquidy substance which can seem like it might produce oily skin however, the sunscreen is not oil-inducing at all even though it gives a glowy finish.
Overall, I would give this product a 9/10! I recommend purchasing it as soon as possible to keep your skin acne-free and safe from UV rays all summer.
Leave a Comment
About the Contributor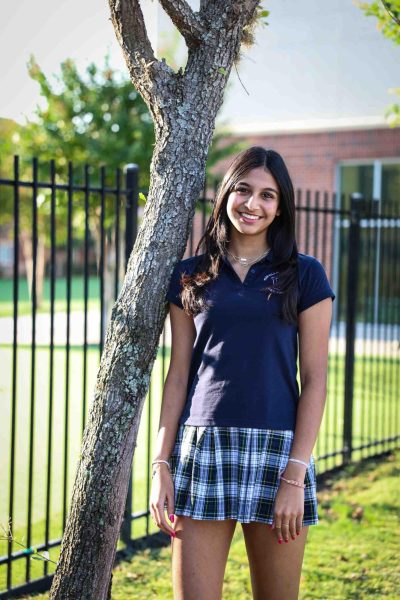 Nina Koshy, Copy Editor
Nina Koshy is currently one of the Copy Editors for The Viking Press. She is a sophomore with a passion for writing, entrepreneurship, and Mock Trial!...