Game Changer Season 5: Reinventing a Reinvented Wheel
Game Changer is a game show all about innovation. For the uninformed: Game Changer is a show produced by Dropout in which the game played is different every time. With every episode, the show tries to bring something new to the table, and is constantly evolving and improving on itself. Because a large joy of watching is the element of surprise, I'm reluctant to spoil it, so here are vague summaries of each episode this season:
"Sam Says 2" is a simple game of Simon Says that gets unexpectedly tricky.
"Karaoke Night" has extremely talented contestants singing songs that don't exist.
"Like My Coffee 2" has contestants crafting pickup-lines at a breakneck speed.
"Name a Number" is a challenging game about endurance, guts, and flying too close to the sun.
"A Game Most Changed" is a Shakespearean play. The problem, of course, is that there is no script.
"As a Cucumber" is easy to win if you can simply keep calm and collected. 
"The Bachelor" is a two episode game which parodies the classic genre of dating shows.
"Escape the Greenroom" is a surprise escape room.
The previous season, season 4, saw a huge jump in budget, new highs in terms of contestant performance, and a slew of unimaginably fun games that blew the previous seasons out of the water. It was such a massive leap in quality with seemingly not much room for improvement that it was difficult to imagine the show getting any better. Spoiler alert: They did it. Season 5 is undoubtedly the best season of Game Changer yet.
Let's talk about pure production – though some episodes are fairly standard visually, others really take leaps. A Game Most Changed and The Bachelor include excellent thematic set design, Name a Number, As a Cucumber and Sam Says 2 include some extremely intricate props and bits, and the most stellar example of both planning and post-production takes place in Escape The Greenroom, which given the topic of the episode one can likely imagine where this would shine.
We also were given some of the most impressive contestant performances this season. Many of the games are improv-based, and when talented performers show up, Game Changer's mechanics and atmosphere really harmonize with them and maximize their performances. The most memorable examples of this show up in A Game Most Changed and Karaoke Night. Both of these episodes had experts in their respective fields, with musical improvisers absolutely killing it in Karaoke Night and the iconic improv troupe The Improvised Shakespeare Company shining in A Game Most Changed. "I think the biggest compliment you can give to an improviser is to say to them 'I don't believe that was improvised'," says writer and creative producer Paul Robalino in the behind the scenes for A Game Most Changed. "As an improviser myself, I know that it's actually improvised. But after that episode, having full knowledge of everything that went into it, even I was like 'there's no way!'"
It's valuable to mention Dropout's strong leaning towards diversity, with the best example showing up in episodes 7 and 8. This is a two-part take/parody of a dating show, and the contestants are all diverse in their ethnicities, genders, body types, and so on – Dropout takes great care to represent everybody with each episode. "We wanted to honor the fact that Grant (the central contestant for the episode) is [bisexual], which you normally don't see in dating shows," says host and executive producer Sam Reich in the behind the scenes for Game Changer's The Bachelor episode. "You don't normally have men, women and non-binary folks competing for one person's affection." Diversity doesn't end with the on screen personalities either – the crew as well is a varied and well selected bunch.
Perhaps a lot of this comes from the show's extremely resonant voice – there is clearly no profit-oriented executive staring over the producers of the show, and as such they are open to take risks and break expectations in a way not typical of high-budget entertainment. Dropout is largely independent from the tropes and limitations typical of the entertainment industry. Without spoiling, one example of a massive risk happens in season 4, where an episode almost entirely stops being a game show at all and simply turns into a celebration. On paper, it doesn't sound like it would work in terms of entertainment value, but it absolutely does. In concept, Game Changer is something not many large entertainment corporations would greenlight – since it always changes, there's no safety or consistency except in the talent of the cast and crew. One would have to simply trust raw quality to bring in views, rather than commercialization. 
Game Changer, in a word, is really smart. The show knows exactly what it is, who its contestants are, and who its audience is. It pushes boundaries while also making sure its contestants are having a good time, constantly surprises while also giving viewers exactly what they want, is extremely intricate and clever with execution while also being effortlessly simple to understand, is sly and pedantic while also exclusively exuding positivity – it's a 10/10. Game Changer is the type of show that fully understands that points don't matter, but counts them anyways for fun.
Now, fans ask the same question as they did at the end of season 4: what could possibly be next? How could Game Changer possibly top the sheer quality they achieved this season? Well, though the typical episodes of season 5 are over, Game Changer is not quite done yet. Currently running is the 4 episode special Game Changer: Battle Royale, an intense Survivor inspired celebration of all things game shows. Everything great about this season of Game Changer also applies to Battle Royale.
As for season 6, the show and its writers are reluctant to fall into patterns, so fans truly cannot predict what's next in store. What they do know is that Dropout is an extremely capable company that will deliver, there is no question about it. In the meantime, fans wait in anticipation and optimism for all the surprises of season 6.
Leave a Comment
About the Contributor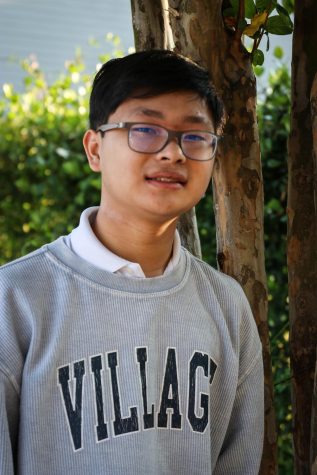 Duy Nguyen, Copy Editor

DJ Nguyen is a junior with an interest in language and computer science. He is in his 2nd year with The Viking Press and is a brand new editor for the...