The Impact of School on Stress and Sleep
According to the Center for Disease Control, it is recommended that teenagers aged 13-18 sleep an average of 8-10 hours per 24 hours. However, is that really the case at Village? How much does stress affect students' sleep habits? What impacts do homework assignments and extracurricular activities have on sleep and well-being? 
The Village School offers three different diploma 'tracks' to the class of 2023: The International Baccalaureate (IB) Diploma, The Entrepreneurship Diploma, and the Village High School Diploma. Each one has diverse opportunities with unique workloads and levels of responsibility, tailored to the needs of the student. However, the link between the diploma programs, stress, and the impact on sleep has yet to be explored.
The IB diploma is considered by many to be quite challenging, given the nature of the program. During the IB program, each student must write a 4000-word extended essay. Furthermore, in each class students must conduct internal assessments or IAs. In the natural sciences, these include designing and acting out experiments. In the social sciences, this includes applying theory learned in class to real-life situations of examples. 
Senior Mike Wang, the first student to take both the IB and entrepreneurship diplomas simultaneously at the Village school, says that he sleeps approximately "five or six hours a night." After coming home from school, he doesn't feel particularly pressured by his classes. 
"I know to plan it (his evening) out. I'm not, like, rushing myself or forcing myself to do a lot of work." said Wang. One way he manages his stress is by meditating daily.
Furthermore, he reminds himself why he works hard in the first place. "You just have to think about why you keep on working, you know. For me, I want to go to my dream college. That's why I have to deal with stress. Keep on pushing yourself until you make it." 
"I sleep between nine and ten hours a night," said senior Carter Freeman, an entrepreneurship diploma student. 
"When I get home, I pretty much have never had homework. I go to the gym between two and three hours a day, every day after school and work on my business, which is 'We Go Jim.'" said Freeman. 
When asked about stress in school Freeman responded, "I manage my stress with the gym, mostly. That's where I take out all my anxiety, but in general, I feel like this year has been pretty easy compared to previous years."
From talking to both students, it appears that there is a significant difference in the amount of stress experienced by the school when taking IB diploma or not. However, both can agree that school directly impacts their well-being. 
 "I would say that school does impact my well-being in some capacity. If I have a lot of work then obviously, I'm gonna feel a lot of stress, and if I feel a lot of stress, then I'm going to feel panic and do all that," said Wang. 
When asked if school impacts his well-being, Freeman responded "Yeah, obviously. I mean, it's why I pay to go here."
What about for the students that don't do either of those diploma programs? What is their experience with school, sleep and stress?
"I don't count them, but I sleep roughly 6-7 hours a night." said senior and Village Diploma track student, Jamie Owusu.  
When asked if he believed that school negatively impacts his well-being, he said "Yes, very much so."
"I think school causes a lot of stress for students, because teachers don't really care too much about your well-being, but they really care about if you do your work on time or if you're a good student. I think school should find a way to lessen the workload and focus more on students' emotional well-being," said Owusu. 
It seems that there is a careful balance to be maintained between these students' academic and personal lives. The common factor between them; regardless of their diploma, they have persevered in finding ways to manage their workloads and perform at a high capacity.  
Leave a Comment
About the Contributor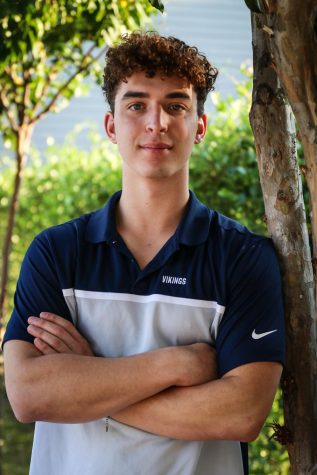 Sevastian Oti, Staff Writer
Sevastian Oti is an introspective, curious, and spontaneous senior and this is his first year on Viking Media. Outside of school hours, he has an internship...