The Soccer Team Deserves Their Own Homecoming
Earning the title of  "State Champions" is something that most athletic teams only ever dream of. But in 2022, the Boy's Varsity Soccer team secured this impressive victory. Coached by Mansoor Ansari, the Vikings fought an arduous and difficult campaign and came up victorious. 
"In prior years, the team chemistry wasn't there," said head coach of the Boy's Soccer team Mansoor Ansari. "We were able to compete but not reach the state championship. Although, last year, with the great chemistry and improvement, we were able to reach the finals."
Despite this victory, many people felt that the school hardly celebrated the win. "As a school, we need to do better celebrating soccer overall. Soccer needs more attention than it's getting," said Ansari. "We are an international school and a lot of students come from an international background where soccer is their number one sport. I understand that in the United States more attention is given to football and basketball as they have homecomings and other celebrations, but soccer needs more attention."
In response, students are calling out for a Viking celebration of soccer akin to football's Homecoming, with a spirit week and school-wide dance and game at the end of the week. 
"I think that a homecoming would be huge – for the morale of the team and morale of the school – because we are playing a good game and we don't get recognized as much as other sports," said Ansari. "I think it's a fantastic idea and I am fully supportive of it." 
Not only would Village get to celebrate their very own hard-earned victories, but it would also represent and embody the ideals of the school. As the most diverse school in Texas and an international school, it is imperative to celebrate the sport that commonly unites the globe. The World Cup is just a recent example of how important and pervasive soccer is across nations – and there is no better place to celebrate it than at The Village School. 
"We have a really diverse team." Senior Charlie Johnston, Boys Varsity Soccer Player and scorer of one of the winning goals in the State Championship says, "I think I am the only American there actually. We are international, just like our school. The perfect sport that represents the international sphere is soccer." 
This article calls upon Student Government to make this reality, not only for the Soccer team but also for the very ideals that Vikings uphold. The Spring Fling Dance, on February 10, is the perfect opportunity to give Soccer the Homecoming they deserve. With the last home game on Saturday, February 4, 2023, there is no time to waste.
Leave a Comment
About the Contributor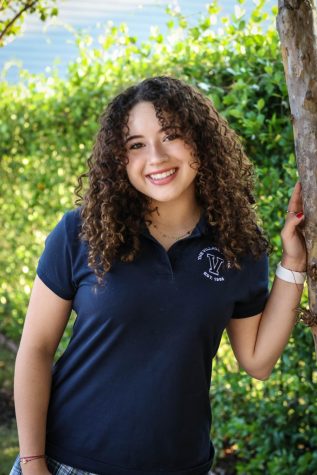 Regina Blenda Ayala, Editor-in-Chief



Regina Blenda Ayala is a passionate and driven senior who wants to make an impact every chance they get. They mostly connect with their Paraguayan...