Wakanda Forever: A Slow-Burn Suspense and Predictable Plot, Yet a Powerful Feminist Narrative
*Review may contain spoilers*
On Friday, November 11, 2022, the wait came to an end. One of the most anticipated films of the year, Black Panther: Wakanda Forever, was unveiled to the world. After the sensational success of Black Panther in 2018, fans once again returned to the rich world of Wakanda. But a lot has changed since then, both in the Marvel Cinematic Universe and in real life. The death of actor Chadwick Boseman (King T'Challa, main protagonist of Black Panther) completely changed the trajectory that Marvel planned to take with the Black Panther saga. 
Following the unexplained death of King T'Challa that occurs in the opening scene of the film, viewers witness a matriarchal shift in Wakandan society. T'Challa's mother, Queen Ramonda (Angela Bassett), assumes the throne at the beginning of the movie. His younger sister, the scientific prodigy Shuri (Letitia Wright), scrambles to honor her brother's memory and fill his shoes. The kingdom nonetheless seems vulnerable, as the outside world conspires to gain access to Wakanda's reserves of vibranium, a rare mineral with daunting military and industrial uses. Thanks to Ramonda's regal diplomatic skills and the fighting prowess of the Jabari, led by M'Baku (Winston Duke), and the Dora Milaje, led by the mighty Okoye (Danai Gurira), Wakanda can hold its own against the United States and France. The real threat comes from under the sea, where the long-isolated aquatic nation of Talokan controls the planet's only other source of vibranium. For the purposes of "Wakanda Forever," he is a villain, albeit one with a legitimate grudge and a coherent political argument.
If this sounds like too much plot summary, that's because "Wakanda Forever," like many Marvel movies, has too much plot. And the nature of the plot is the first flaw I would like to discuss. Everything feels predictable from the get-go. It feels obvious that Shuri will be the new Black Panther and that a war is imminent. 
The plot also lacks a sense of depth and development. This is because the movie was weighted with too many purposes: setting up the Marvel TV series "Ironheart" (in which Dominique Thorne will star), acknowledging The Snap, grieving Boseman's death, and finding a new Black Panther. It's simply too much for one film. 
With so many themes floating around the movie, the suspense builds in an extremely slow manner and nothing is properly developed. At times the movie focuses on white characters who serve no discernible purpose in advancing the story. We spend too much in suburban Virginia with CIA agent Everett Ross (Martin Freeman) as he banters with his ex-wife Valentina Allegra de Fontaine (Julia Louis-Dreyfus) over US foreign policy, but we don't get to learn more about the visually stunning Talokan, a kingdom that has minimal world-building in the film despite its almost 3-hour length. 
No Talokan characters other than Namor are fleshed out, and what appears to be a fantastically complex fictional culture is rendered one-dimensional — almost exclusively serving as a military entity powerful enough to test Wakanda's strength. The movie offers us a delicious morsel of a fascinating new place but never a full bite, and so the story's emotional stakes fall disproportionately on Shuri's shoulders.
Although Letitia Wright flawlessly delivers heavily emotional scenes mourning her brother and gripping action sequences as the new Black Panther, the rest of the cast's talents only shine through in flashes. Lupita Nyong'o, who plays a Wakandan spy and T'Challa's former love interest, brings a radiant energy but doesn't appear onscreen until midway through. Michaela Coel, who plays a Wakandan soldier, randomly pops up in rare bits that leave her character flat and glaringly underused. Winston Duke, a tribal chief who utters some of the film's most memorable punch lines, delivers an ice-cold counterpoint to Wright's white-hot rage in a simmering debate over the prospects of war with Talokan, a powerful scene that feels much too short. Danai Gurira plays the Wakandan general Okoye in a sparkling performance that spans the tearful intensity of getting demoted by the queen to her hilarious efforts to blend into an American college campus, but she gradually fades from the story as it approaches its final act.
Although the film is littered with a predictable plot, slow-burn suspense, and weak world-building, there are some parts of Wakanda Forever that are done beautifully. Marvel's tribute to Chadwick Boseman is filled with a sense of love, respect, and remembrance that is delicately threaded throughout the film. Normally, in the logo reveal of every movie, Marvel shows off its massive roster of characters. However, something different happens during this portion of Black Panther: Wakanda Forever. Instead of seeing clips of Captain America, Iron Man and Hulk appear with a heroic soundtrack, we only see images of Chadwick Boseman as T'Challa in complete silence. I had never heard a theater go so silent before. The last scene of the film where we see Shuri at the beach reminiscing on wholesome moments with her brother is an incredibly honest and tear-jerking performance by Wright. 
The film is also an incredibly powerful feminist narrative. We see black women playing a number of roles throughout the movie. Simply from the trailer you can see they are warriors, mourners, healers, mothers, leaders, sisters and defenders of the legacy of T'Challa (and, for that matter, Boseman). The women of Wakanda are the heart and soul of this film, as we see them express their grief, rage, and victory in bold and unapologetic ways. The women of Wakanda also continue to protect their nation, and it's not an easy path. But that is so often the plight of Black women — to shoulder the world's troubles, carry the systemic burden, and still persevere. The weight of grief takes its toll on all the women in this film: Ramonda, Shuri, Okoye, and Nakia are each mourning T'Challa and struggling to understand their path forward. But they also have a nation to protect and that dedication never wavers.
Another aspect of the film's feminist narrative that I deeply resonated with is the complexity of Shuri's character. Above all else, "Wakanda Forever" is Shuri's movie, thrusting her into the spotlight not just as the new Black Panther but as a new leader for Wakanda. None of that comes easily to her. Shuri suffers a crisis of faith after her brother's passing. All that she once believed in — the spiritual and the scientific — became unrecognizably complex. How could the ancestors let this happen? How could she? As an aspiring scientist but a Hindu with somewhat spiritual values, Shuri's journey through grief felt incredibly real and well-represented to me. 
Overall, I would rate Black Panther: Wakanda Forever a 6.5/10 film and highly recommend experiencing the rich world of Wakanda in theaters.
Leave a Comment
About the Contributor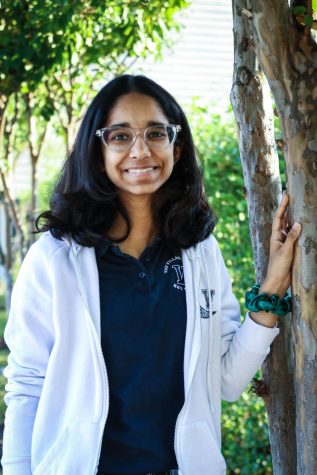 Aditi Iyer, Assistant Editor-in-Chief
Aditi Iyer is a senior, and this is her fourth year as an editor for The Viking Press. In addition to journalism, Aditi is an acclaimed competitor on the...