Say Hello to ComedySportz
After welcoming the new 2022 school year at the Village High School, the comedy sports club just kicked off the new school year by holding auditions for the club on Wednesday, September 7, 2022. 
This is the ComedySportz club's second year at the village school and the returning members are ready to start the new school year. The ComedySportz club is led by students Ava Greer and Samuel Geetan and is sponsored by Mr. German.
ComedySportz is an improvisational performance where two teams of "athletes" face off in a head-to-head competition where they play games and use suggestions from the audience to create scenes with the goal of getting the best reactions from the audience. There are multiple different games that can be played, such as "Dr. Know It All" a game in which those in the group answer audience questions each saying one word at a time with the goal of making the audience laugh. Every time the audience laughs, cheers, exhales sharply or chuckles the team that caused the reaction will gain a point. Whichever team scores the most points at the end of the match wins.
Greeting new members with a smile, co-captains Ava Greer and Samuel Geetan served up 5 games to prepare the new recruits for the amazing experience that awaits.
Leave a Comment
About the Contributor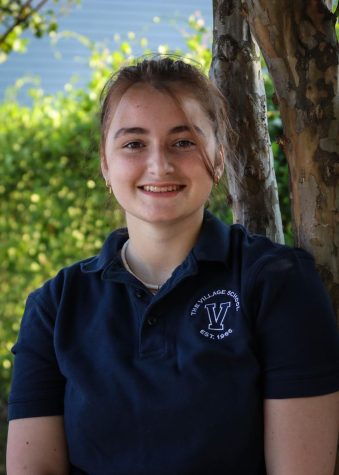 Valerie Gaynor, Staff Writer
Valerie Gaynor is a passionate and hardworking freshman at The Village School, and is currently in her first year on The Viking Press staff. Some of Valerie's...