Love My Skin
Senior Audrey Ajakaye has learned to love her skin and is here to help others do the same. In her junior year of high school, Ajakaye turned passion into a project. Drawing inspiration from her own struggles with societal prejudices, Ajakaye created an app, LoveMySkin, that helps others reinforce self-love and pride.
 The primary goal of LoveMySkin is to improve skin wellbeing in 4 primary features: Positive affirmations about the user's skin, skin condition diagnosis, skin well-being education, and a tracker that allows the user to record their skin journey as they improve their skincare. Ajakaye's journey to boost skin confidence stemmed from her own experiences. "This app is created for anyone who wants to improve upon their love for their skin. Through a holistic approach to skin health, LoveMySkin aims to build upon the insecurities that everyone has regarding their skin, at their best and worst times. " 
Reaching a global audience, Ajakaye has made an impact, particularly in Nigeria. Over the summer of 2021, the senior visited Nigeria, in accordance with Corporate Social Responsibility, which are private business regulations concerning social accountability. "The first program took place in Lagos, Nigeria," said Ajakaye, "I taught 250 kids from underprivileged communities about skin education." The young entrepreneur's program does not stop there. Ajakaye created a virtual outreach program, and at the Master's School in New York presented a lesson on skin positivity.
Ajakye has currently been working on creating more opportunities for boosting this app's awareness. "I am currently working on building a chat and e-commerce feature," said Ajakaye when discussing future plans for her app. "This will allow users to build strong foundations of body positivity as well as be directly linked to whether they can get medication with just one click of a button." Ajakaye believes that having a  strong foundational love for one's body, and having the education to take care of it is extremely important to combat prejudice and promote self-empowerment. "As the world becomes more and more revolved around social media," said Ajakaye, "it is important to learn to love yourself, despite all of the flaws."
To learn more about LoveMySkin, download the app on the google play and app store, and go to the website: lovemyskin.app
Leave a Comment
About the Contributor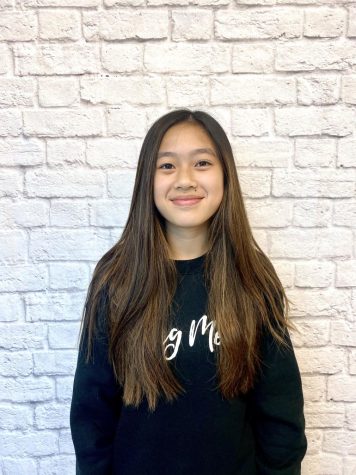 Zoe Nguyen, Editor-in-Chief



Zoe Nguyen is a senior, and the Editor-in-Chief of The Viking Press with an ardent passion for finance, calligraphy, and creative writing. Being...