COVID Crisis in India: Student Insight at Village
The COVID-19 pandemic has ravaged the entire globe, severely affecting every country. It has been over a year since the virus' first outbreak, and while the United States is rapidly curbing infections and deaths, other countries remain struggling. According to CNN, more people are dying from COVID-19 in India right now than at any other stage of the pandemic. India has reported more than 21 million cases and 238,000 deaths since the pandemic began. The Village School has students from over 80 different countries. Within the student body, students from India are one of the biggest populations represented here at Village. 
Due to the pandemic, many students have not seen their family members that live in India. 
"The last time I traveled to visit them was December 2019 to January 2020," said sophomore Meghna Prabhakaran, a south Indian student. "It has been almost a year since I have seen them." 
For others, it has been even longer. "All my family lives in India," said sophomore Yash Tiwari, a student with north Indian family and roots. "I got to see them 2 years ago." 
Despite the distance, many students are extremely close to their families abroad, making the pandemic that much more difficult.
VHS students' families in India are being affected in different ways. While some are in the center of chaos, others are less affected. 
"My family living in Chennai is heavily affected by the COVID-19 crisis due to uncontrollable spread, lack of oxygen tanks, and irresponsibility of wearing masks," said Prabhakaran. "They have been quarantined in their house for over a year now. My aunt, who is living with my grandfather and grandmother, is the only one who has any contact with people. She gets the essential necessities once a week, including groceries, toiletries, and water. My other family, which is my dad's side, is also going through a similar situation."
However, not all student's experiences are the same. Certain areas of India have been more resilient to the spread of COVID than others. 
"The COVID Crisis in India isn't really affecting much of my family because the majority of the big outbreaks are in the northern states that support Modi and the BJP," said sophomore Mekala Kumar, a Tamilian student.  "Tamil Nadu is one of the only non-BJP ruled states, which allowed them to better be prepared for COVID. There still are many cases in Tamil Nadu, but luckily my family isn't really affected." 
While some families are in more pressing circumstances than others, one thing that these students have in common is the way the complete mayhem in India is affecting them. 
"Seeing what's happening in India currently is really scary," said Kumar.  "It's terrible to see people of my country dying every second due to a virus that the government didn't prepare for. The Indian government had almost a year to prepare for a big outbreak and yet, they didn't."
Many of these students are worried about the safety of their home country and their citizens. Since India has fewer resources, contracting COVID there can be a stressful situation for families. 
"The COVID-19 crisis is affecting me and my family living in the US due to the fact that our loved ones are in a critical state in the pandemic," said Prabhakaran. "It is extremely stressful to constantly be worried about their safety, especially when they are old and are the most susceptible to catching the virus." 
This crisis is stretching India's health care system beyond its breaking point. Beds, oxygen, and medical workers are in short supply, and COVID patients are dying in waiting rooms or outside overwhelmed clinics before they can see a doctor. VHS students are asking you, readers, to help.
"Please help support India through this crisis, because even though their own government can't help the people, that doesn't mean that other countries shouldn't as well," said Kumar. "So please donate to charities [and] spread awareness about what's happening. Anything helps."
Here are some places to donate to help India: 
https://give2asia.org/donate-coronavirus-fund/
Leave a Comment
About the Contributor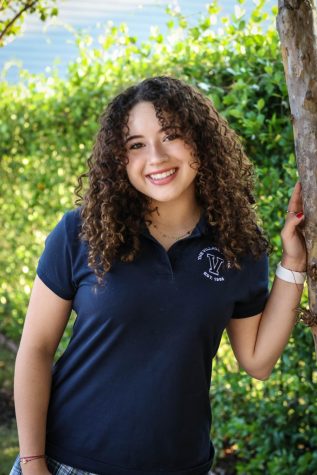 Regina Blenda Ayala, Editor-in-Chief



Regina Blenda Ayala is a passionate and driven senior who wants to make an impact every chance they get. They mostly connect with their Paraguayan...