Canvas: A Moving Cinematic Portrait of Loss & Love
Human behavior, in terms of dealing with loss, is incredibly varied. Trauma can shape us, break us, and rebuild us in unexpected ways. Personal loss never stops hurting entirely, often stealing one's drive to create and innovate. Individuals are left with one less way to cope with what they have been forced to endure. On Friday, December 11, 2020, Netflix brought this struggle to screens through a beautiful, eight-minute masterpiece. 
The animated short film Canvas tells the story of a grieving grandfather who loses his creative spark for painting after suffering a devastating loss. This poignant plot additionally traces the story of his spunky and inquisitive granddaughter, who leads her grandfather on his journey back to the canvas. 
Canvas is a wordless wonder with zero dialogue, relying solely on visual senses for viewers to connect with its moments. But at no point does a lack of dialogue subtract from the persona of characters or the understanding of the plot. In turn, it adds phenomenal depth to emotions and visual expressions—whether this be sadness that is implied with a fleeting hug or the grimace of a face. A series of small, heartfelt moments between the grandfather and his granddaughter are showcased flawlessly, without a word of spoken language. 
The beauty of Canvas is the grandfather's reasons for reclaiming his passion. His character holds an emotional angle that breathes life back into his hobby and adds a relatable lens of loss and trauma to the short film. 
Another commendable element of the short film is its iconic and fresh representation. Canvas is appreciated for its story revolving around Black characters. This was key for the creator Frank E. Abney, who has always aimed to champion African-American representation in stories (being a Black animator himself). Abney felt this was imperative for all his short films since he never saw Black people as main cartoon characters growing up. Thus, every character in Canvas is Black and beautifully animated. This has a phenomenal audience impact, especially now, amidst the passionate Black Lives Matter movement. 
The message of Canvas is resonant and brilliant. It highlights multiple facets of dealing with grief, ultimately conveying that moving forward from the loss of a loved one does not betray their memory, it keeps their spirit alive. 
The animation in Canvas is fresh and perfect for the film's plot. Centered around the concept of artwork and painting, the animations themselves feel like paintings come to life. The animation choices add value to the characters portrayed, the emotions conveyed, and the plot delivered. All these aspects come together beautifully, and phenomenal animation only amplifies this effect. 
I rate this short film a 9/10. With visually stunning animations and a universal concept at its core, Canvas will leave viewers smiling from its honesty and touched by its message. Films like Coco and Canvas foresee a bright, diverse future for the movie industry, brimming with representation. Canvas is eight minutes of wordless magic, and is another Netflix short film that pulls at our heartstrings. Canvas reminds us that  loss is inevitable and unavoidable, but that we should never let it get the last word. Passion is timeless. Do not give up, instead stand up. Stand up, and take it.
Leave a Comment
About the Contributor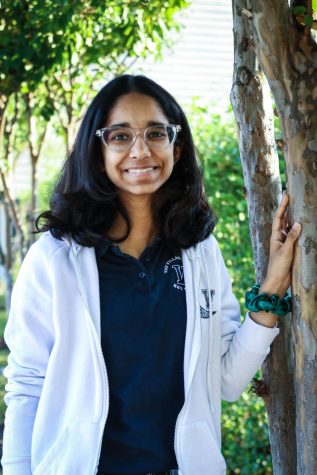 Aditi Ramesh Iyer, Assistant Editor-in-Chief
Aditi Iyer is a senior, and this is her fourth year as an editor for The Viking Press. In addition to journalism, Aditi is an acclaimed competitor on the...