"No Time to Die" by Billie Eilish
Eighteen-year-old, five-time Grammy winner Billie Eilish is one of the most-streamed artists in the industry and has grown significantly since her first release, "Ocean Eyes," and she shows no signs of stopping. 
From her unique style and songs, Eilish is a singer that many people define as the future of music. With her brother, Finneas O'Connell, the duo seems to be unstoppable, writing and producing the songs that everyone cherishes all over the world.
Her latest song, "No Time to Die," which was released on February 13, 2020, is the theme song of the upcoming James Bond movie which is planned to be released on December 25, 2020, making her the youngest singer to ever have a song in a James Bond movie.
Being  recorded in O'Connells bedroom/recording studio, the song perfectly depicts the James Bond theme, having a similar mod to the other theme songs such as "Skyfall" by Adele and Madonna's "Die Another Day." Along with this, in addition to being perfectly suited for the movie, the tone and mood of the song complement Eilish's voice as well. Her voice seems to bring a sense of dread and regret without sacrificing the beauty in it. The dark and cold tone of the song highlights what Eilish is infamously known for, the edgy and vulnerable pieces that she has in her previous songs. However, it differs in that it also has beautiful orchestrated sounds in comparison to some of her songs in her previous album, When We All Fall Asleep Where Do We Go? 
Her vocals in this song are nothing out of the ordinary from her other songs, having the same quiet tone as it gradually gets louder as the song goes on. For all of the criticism that Eilish gets for her voice being so quiet, her voice is particularly clear without any mumbling, yet still seems to be quiet and gentle. The lyrics specifically have a very clear meaning about a romantic betrayal that provide insight into the movie's plot. 
Overall, the song is decent, however, compared to the previous James Bond theme songs, it is significantly better. The background music is both beautiful and moving, but as for her vocals, nothing too impressive. Personally, I do not find that this song is any better than her previous songs, nor does it stand out as much as Bad Guy or bury a friend, but due to it being for a movie, I understand the potential restrictions Eilish faces regarding the originality of the song.
Leave a Comment
About the Contributor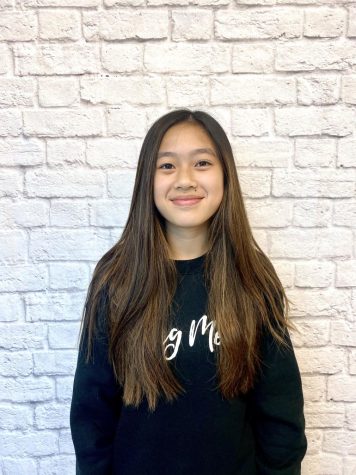 Zoe Nguyen, Editor-in-Chief



Zoe Nguyen is a senior, and the Editor-in-Chief of The Viking Press with an ardent passion for finance, calligraphy, and creative writing. Being...