Navigating the College Application Process: Tips from Seniors to Underclassmen
For many seniors at The Village School – or any high school for that matter – fall semester can be quite strenuous. From the seemingly never-ending piles of homework and assessments to the constant battling of the infamous 'senioritis', seniors have one more task to add to their load: the college application process. 
According to a survey conducted by The College Board and Seventeen magazine, 70% of graduating high school seniors said they were either always or often stressed about the college application process, while over 68% reported they wished they were less stressed. Because stress is a common consequence of first semester senior year, many seniors believe planning in advance and working with mentors and adults, such as parents, can make the process easier. 
"Plan early, and stick to the plan," said senior Sofia Rivera, an incoming freshman at The University of Chicago who plans on majoring in biomedical engineering. "You have to designate a day for when you are going to talk about universities with your parents. It's all about communication. We started towards the end of 11th grade."
In addition to planning what colleges to apply to, it is also recommended to manage and allot your time to the different parts of the college application, including essays, which can be worked on ahead of time. 
"By your second semester of junior year, you want to have at least one draft of your [CommonApp, the main personal statement,] essay done," said senior Divyesh Khatri, a student who has already received acceptances to prestigious programs and colleges, including The University of Texas at Austin's Computer Science program and Georgia Tech, two of the nation's top 10 programs for computer science. "It doesn't even have to be perfect. It can just be the first thing that comes to your mind about yourself. Look at the CommonApp prompts, and those prompts don't really change from year to year. Try to answer the one you like the best. Get feedback by the end of junior year, and just work on it incrementally over the summer. At least by the first day of school, you want to have your CommonApp essay done." 
Although most seniors can agree that planning ahead is critical in easing the whole process, many will point out an even more important tip: start working on the critical components of the application, including excellent grades, standardized test scores, and most importantly, the resume, way in advance of senior year. 
"College admissions offices differ in the components that are most important," said Robin Groelle, founder of CollegeCounselling.com, a college-counseling service for US and international college-bound students. "[But] all colleges will take a close review of a student's transcript noting the rigor of the courses taken in the five core subjects and the progression of marks earned. Many will also review the SAT, ACT, and/or SAT Subject Tests or AP exams. However, a growing number of colleges will review applicants without testing, thus enabling the readers to focus on other aspects of the application, including the essay(s), résumé of activities, and letters of recommendation. For the most highly selective colleges, these factors will 'get you to the starting line,' and it's the distinguishing features that can make the difference (noteworthy talents, accomplishments, leadership, connections to the college—the 'it' factor—that all help an applicant stand apart)."
UChicago, the nation's top 6thcollege boasting a mere 7% acceptance rate and the school that Rivera plans on attending, is one such school that carries a "test-optional admissions process" that Groelle mentions in order "to enhance the accessibility of its undergraduate College for first-generation and low-income students," as stated according to the college's published statement regarding this policy. Rather, the school urges students to use their experiences, including internships and summer programs, to stand out from the pool of applicants. 
"It was really taking advantage of internships ," said Rivera. "I was able to do a chemical analysis internship at Triton Analytics… through the school for a month. Some companies would come in and give us oil samples, and we would have to dilute them and read the different properties about the oil samples in order for those companies to say [whether] they want to invest in the oil or not. It  is not necessarily [what] I want to do, but it gave me in-lab experience. It (the opportunity to complete internships) is something that a lot of high schoolers don't have.
 IB in general also gives you experience in the lab. I did a chemistry EE (Extended Essay), so being able to make my own experiment and writing lab reports was also important, and it's in my resume. 
I also did some summer programs. Not only does it show that you are interested in the school, it also helps you get a feel of the campus, the professors, and the classes. It also gives you something to write about for your college essays. For example, my UT Austin essay and UChicago essay were all based on experiences that I had on the campus, and that shows that you connected with the campus… and that you can give specific examples."  
Although some schools, such as UChicago, are incorporating a test-optional policy, seniors advise the underclassmen to still prepare tediously and put in their best attempt during standardized tests as some universities still strongly consider academics to be a major part of the application process. 
"Academic performance in high school has been the most important consideration in freshman admission decisions for decades," according to the 2019 State of College Admission report published by the National Association for College Admission Counseling. "Strength of curriculum was rated considerably important by more than 60% of colleges and nearly half gave admission test scores (ACT/SAT) considerable weight."
Although one's 'target' SAT/ACT score may vary based on the colleges he/she plans on applying to, seniors advise checking out the school's average range for standardized tests and using it as a benchmark. 
"You should aim at getting into that average range for the school," Khatri said. "Once you are in that average range and you [know you] can't do better,  you shouldn't focus too much on the standardized metrics."
From the seemingly excruciating standardized testing and test preparation to the grinding out of multiple essays in a single night, seniors still advise the underclassmen to try to appreciate the process as much as they can.
"I think it's a great period for self reflection through the essays ," Khatri said. "You get a lot of chances to really explore on a deeper level what kind of experiences made you who you are."
Leave a Comment
About the Contributor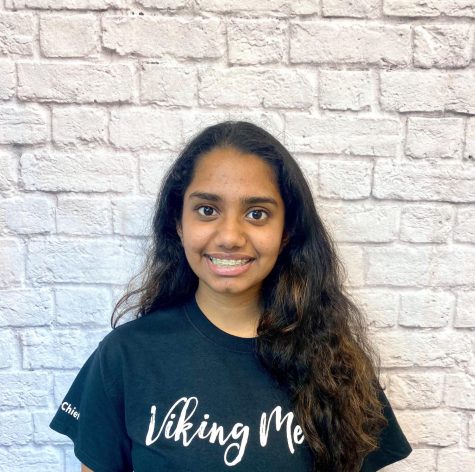 Puneetha Goli, Editor-in-chief
Puneetha Goli is a senior, and this is her third year on The Viking Press. In addition to writing, Puneetha competes on the school's MUN and tennis team....