Midnights: Taylor's Darkest, Most Versatile Pop Album
She said "Meet Me at Midnight" and boy did the world show up. When clocks struck 11 pm on the Thursday evening before October 21, 2022, fans eagerly clicked play (after Spotify was done crashing, of course) on Taylor Swift's brand-new, tenth studio album Midnights. Within just a couple of weeks of release, Midnights broke an unbelievable amount of records. The album became Spotify's most-streamed album in a single day, and Taylor broke the record for the most-streamed artist in a single day in Spotify history. Swift also became the first artist in history to claim all top 10 spots on the Billboard Hot 100, with "Anti-Hero" topping the charts. With Midnights being such a colossal success, this is my deep dive into all 13 tracks on the album, along with some of my favorite bonuses. 
Midnights Tracklist

Lavender Haze

Maroon

Anti-Hero

Snow On The Beach ft. Lana Del Rey

You're On Your Own, Kid

Midnight Rain

Question…?

Vigilante Shit

Bejeweled

Labyrinth

Karma

Sweet Nothing

Mastermind

Bonus tracks:

The Great War

High Infidelity

Bigger Than the Whole Sky

Paris 

Glitch

Would've, Could've, Should've

Dear Reader

Hits Different
Lavender Haze
This track unfortunately did not make it to the list of my favorite few songs on the album and is oftentimes the track that I end up skipping. My only concern with it is that Taylor's voice feels overly edited and excessively auto-tuned throughout the track. However, I do believe that Lavender Haze was a phenomenal opener to the album. Fans spent hours imagining what "Midnights" might sound like — agonizing even since Swift declined to give us any singles or snippets beforehand — and many did not anticipate a return to the moody-pop landscape of "Delicate" and "Dress". Thus, when those watery synths first entered my eardrums as I pressed play on Midnights at 11 pm, I felt my eyes light up like a child. Lyrically, Lavender Haze is a classic Swift song, as she excels at redirecting common turns of phrase. 
Maroon
Maroon is a brilliant play on Taylor's color theory about love that has evolved across her albums. To me, it tells the story of a friends-to-lovers arc due to lyrics like "and I chose you" and "I see you every day now". Overall, what makes me like the song is the fluid storytelling of the lyrics that bop along to the music composition. "Maroon" is an example of Swift's master storytelling, the kind that carries across albums, shading in new hues and perspectives with each new addition. 
Anti-Hero
This was my favorite song on the album and might even make the list of some of my favorite Swift songs of all time. When I'm listening to it, I am carrying a relatable knot in my chest all the while bopping along to the chorus (It's Me! Hi!). "Anti-Hero" perfectly encapsulates the struggle of so many people who are fighting the idea of being their own problem in life. 
This isn't to say that there are zero flaws in the song. My chief complaint is the lyric "Sometimes I feel like everybody is a sexy baby and I'm a monster on a hill." I've seen many people try to defend this outrageous pairing of words, claiming it's a reference to a "30 Rock" bit or explaining that she's using the metaphor to describe how she feels under the crushing weight of modern beauty standards. But to argue that Swift couldn't come up with a better phrase than "sexy baby" is absolutely preposterous. This is the same woman who wrote "Your Midas touch on the Chevy door / November flush and your flannel cure" and "You kept me like a secret, but I kept you like an oath." You can, and should, expect more from a prolific lyricist who proudly described "Anti-Hero" as "one of my favorite songs I've ever written."
Overall, "Anti-Hero" is a relatable bop with a glittery, retro beat and catchy chorus that you can't help but want to scream in your bedroom at midnight.  
Snow On The Beach ft. Lana Del Rey
Many people say that Snow On The Beach is a wasted opportunity for a collaboration with Lana Del Rey, as many fans claim they can "barely hear her in the song". However, the fact of the matter is that at certain points, the singers are so well synchronized that you can't tell that Lana is in fact singing. While I do believe Lana could have had a solo single verse or simply shone through the song a bit more, I think it is a point of improvement rather than something that detracts from the song. Snow On Beach is a beautiful and serene song and perhaps the most romantic track on the album.  The song is about falling in love with someone at the same time as they're falling in love with you — in this cataclysmic, fated moment where you realize someone feels exactly the same way that you feel.  My favorite lyrics that perfectly capture that feeling are "weird but f*cking beautiful", "you wanting me tonight feels impossible", and "it's fine to fake til you make it till you do, till it's true." With Christmas around the corner, Snow On The Beach is almost like a warm holiday song that makes me feel like I'm trapped in a romantic snow globe.  
You're On Your Own, Kid
You're On Your Own Kid does not match up to many of the other track fives that I have adored from Taylor, such as "The Archer", "All Too Well," White Horse, and "my tears ricochet". However, one of the commendable parts of You're On Your Own Kid is its bridge. Taylor touches on everything from her eating disorder to career struggles. I personally just did not like the melody and rhythm of the song, but it seems to have resonated with numerous others. 
Midnight Rain
Midnight Rain was probably one of my least favorite tracks on the album, followed by Glitch. It simply doesn't deliver on production or lyrics. "Midnight Rain" is a corny combination of words on its own, but I expected a seasoned songwriter like Swift to serve a double entendre or some kind of layered metaphor. I do like the lyrical concept of leaving a nice boy behind because he couldn't keep up — like "Dorothea" from Swift's own perspective, or a grown-up "Fifteen" after she realized those bigger dreams  — but this song doesn't go deep enough to do it justice. The introductory vocals were weak, the melody was nothing special, certain verses/vocals were overly edited, and the chorus just feels corny. 
Question…?
"Question…?" was one of my top songs on the album upon my first listen. The chorus is catchy and addicting. I love the way each question builds onto the next and bops along to the melody. Swift loves asking questions she doesn't want to hear the answers to — or, better yet, questions that don't even have sensible answers. Love, especially love that lingers beyond a relationship, doesn't make sense. It's that haunted limbo where Swift, as a songwriter, truly shines. "Question…?" combines bright, nostalgic production with painful lyrics about regret and yearning.
Vigilante Shit
This song is a true throwback to Taylor's Reputation era. This was also one of my top songs upon my first listen. I loved the beat and the entire vibe of the whole song. Some find it cringeworthy, but I maintain that it's extremely on-brand for Swift and a bop of a beat. This song perfectly captures Taylor's love for a melodramatic revenge fantasy. My favorite lyric is "don't get sad, get even". 
Bejeweled
Bejeweled is a song that I had to let grow on me. I did not enjoy it at all upon my first listen, mainly because the lyrics felt mediocre and I didn't pay enough attention to the beat. But after I watched the music video and gave it a few more listened, the catchy tune and energetic beat/soundtrack were stuck in my head. I couldn't help but bop and sing along to the verses "I polish up real nice" and "I can still make the whole place shimmer". Every time I need a confidence boost or want to feel like a girl boss, Bejeweled is the song that makes me feel glittery and one of a kind.  
Labyrinth
I found Labyrinth to be a fairly boring track at first and it was an immediate skip upon my first few listens of the album. I love a hazy dreamscape, but if you're going to cloud your vocals for four minutes and seven seconds, you'll inevitably run into listeners who will label the song as boring and move on after one listen. I would recommend it as a relaxing, before-bed song to listen to. Over time, the song definitely grew on me as has any misty soundscape-type song that Taylor has made like "This Love" and "my tears ricochet". My favorite lyric in Labyrinth is "Uh oh, I'm falling in love. Oh no, I'm falling in love again. Oh, I'm falling in love. I thought the plane was going down. How'd you turn it right around?" It perfectly encapsulates the fear of falling in love and trusting someone after experiencing a devastating heartbreak. But it also expresses how the joy that a new special someone brings you can pull you back up from the downward spiral and plane crash of heartache. 
Karma
Karma was one of my least favorite songs on Midnights upon first listen and still is. Taylor's relationship with karma throughout her career has been complicated, so I expected this song to be someone meaningful and intense. Thus, it ended up to disappointing me a bit. The lyrics are also just cringeworthy at times ("karma is a cat, purring in my lap", "karma is boyfriend, karma is a god" – Taylor what?). However, the song is undeniably fun and breezy, even if it's not Swift's most insightful songwriting. Therefore, this song is made to delight some and irritate others (I happen to be the latter, unfortunately). 
Sweet Nothing
Sweet Nothing was one of my top songs on Midnights. It's exactly the kind of music I had expected from the album initially. The track is soft and sentimental, weaving together the tender vignettes that anchor a long-term relationship: picking up pebbles next to the sea, humming in the kitchen, and going home together. The song was co-written by Swift's longtime partner Joe Alwyn, who praises her impromptu poetry with a precious affirmation: "What a mind." The song also encapsulates how Swift constantly frets that she's too sensitive for the life she's created. The embrace of her lover is the only place she can truly be herself — and "Sweet Nothing" felt extremely warm, sweet, and calming upon first listen.
Mastermind
Mastermind was also a top song. I think it did everything right. The storytelling was extremely fluid and flowed to the melody flawlessly, the soundtrack/beat was energetic and engaging, and the lyrics were incredibly relatable for overthinkers like myself. My favorite lyrics were "No one wanted to play with me as a little kid, so I've been scheming like a criminal ever since to make them love me and make it seem effortless". I also liked the phrase "checkmate, I couldn't lose". As a closing track, it encapsulates a lot of who Taylor is and how far she's come. 
3 Bonuses I loved: 
The Great War
The chorus of this track is my favorite part of it. Something about "bloodshed, crimson clover, uh-huh, the worst was over, my hand was the one you reach for, all throughout the great war" is extremely melodic and catchy to me. Throughout the song Taylor uses war as a metaphor to describe obstacles within a relationship. However, she leaves listeners with a glimmer of hope at the end, saying she hopes she and her partner can make it through the tension: "I vowed I would always be yours / 'Cause we survived the Great War."
Would've, Could've, Should've
This is the only track from Midnights that fully moved me to tears. It deserved to be track five.  "Would've, Could've, Should've" has to be the darkest, most heartbreaking song Taylor has written about an ex. The bridge of the song is incredibly powerful, and Taylor begins to sound progressively younger as she gets closer to the climax of the bridge when she sings: "Give me back my girlhood, it was mine first." There are a number of clues dropped that she is writing about her ex-boyfriend John Mayer, a man she dated as a teenager when he was in his 30s. That's what makes the entire track so heartbreaking – the fact that she is writing about John Mayer 13 years later with phrases such as "if clarity's in death then why won't this die" and "I regret you all the time". The premise of Midnights is deep, contemplative thoughts that haunt us at the 12th hour, and "Would've, Could've, Should've" encapsulates just that. This track is the essence of being tortured by memories past at midnight. I find it ironic how the best song of Midnights is actually the one she left off the album. 'Would've Could've Should've' is everything Swift promised the album would be, and everything that so much of it is missing. The penultimate track is an adult reflection on a teenage experience that has kept her awake at night — pacing like a ghost, agonizing over what could've been, mourning the person she might've become. 
Hits Different
"Hits Different" is a bop that most certainly does hit differently. The melody is breezy and playful and just perfect. The lyricsm is raw, simple, honest, and relatable. For instance, Taylor sings, "I pictured you with other girls, in love, then threw up on the street." When the chorus comes on, I  also can't help but scream "Oh my, love is a lie" along to the song. 
Music Videos
Aside from the songs, the music videos of the album also did not fail to impress. The Anti-Hero music video was so intelligently constructed. Swift wrote on Instagram that the music video was a way to "watch [her] nightmare scenarios and intrusive thoughts play out in real-time." The song and video are both entertaining and deeply personal, showing vulnerability to Swift that's relatable to fans, critics, and anyone who has ever been their own problem. Overall, the music video is brilliantly directed with creative imagery in form of lyricism turned into visually stunning and entertaining scenes. 
The Anti-Hero video drew significant backlash due to a scene in which Swift steps onto a scale and watches the word "fat" appear on the screen, while her alter-ego shakes her head in disappointment. Many have criticized this scene as being fatphobic. However, I strongly maintain that it's merely an accurate reflection of Swift's eating disorder, which she has spoken about in the past. Regardless, the clip has now been edited out of the music video.
In stark contrast to Anti-Hero which is a cryptic and dark dive into Taylor's insecurities, Bejeweled is a song about self-confidence and beauty. It is arguably the sparkliest, most upbeat item on the album (similar to ME! in Lover or 22 from Red). The "Bejeweled" music video was released on Oct. 25, which is the 12th anniversary of Swift's third album, Speak Now. The video itself is jam-packed full of references to Speak Now in particular, prompting fans to believe it might be the album that she re-records next. My favorite easter egg for Speak Now was the violin instrumental of Enchanted that played in the opening scene of the video. The video itself is also extravagantly colorful and creatively constructed through a spin-off of the Cinderella narrative. Everything from the makeup to the looks to the set design makes the video perfectly encapsulate the glittery vibe of the song and its lyrics. 
Overall, I would rate Midnights a 9/10 and strongly believe that it is worth multiple listens to make sound judgments. Pop listeners itching for new content should definitely experience Taylor's darkest, sparkliest, record-breaking, and most versatile pop album.
Leave a Comment
About the Contributor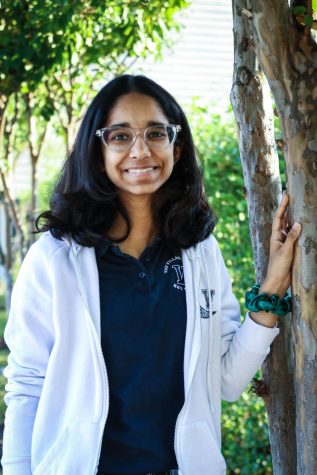 Aditi Iyer, Assistant Editor-in-Chief
Aditi Iyer is a senior, and this is her fourth year as an editor for The Viking Press. In addition to journalism, Aditi is an acclaimed competitor on the...