Purple Hearts
On Friday, July 7, 2022, the blood-warming, heartstopping film Purple Hearts was released on Netflix. Until August 26, the movie peaked on Netflix's top 10 list, spending 6 days in the number 1 spot and 8 days in number 2. 
Purple hearts is a dramatic romance depicting the need-based, high-risk marriage between two strangers, Cassie and Luke. Singer-songwriter Cassie, the protagonist (played by Sofia Carson), suffers from type 2 diabetes and has no health insurance, a veritable cocktail for disaster. She struggles to make ends meet, and has limited funds to purchase the expensive Insulin that keeps her alive. Luke, (played by Nickolas Galitzine), a troubled marine, agrees to marry Cassie not only to provide her with health insurance but for his own, devious benefits. They meet unexpectedly in a bar where Cassie works and performs at, while Luke was with his other marine friends drinking and partying. Early in the movie, we learn that Luke is in trouble; he is being threatened by his old drug dealer, to whom he owes an astonishing amount of money to. However, this manufactured marriage poses its own risks. Fake marriage between a civilian and soldier is illegal, punishable with civil and criminal charges, so the two are forced to pretend they are madly in love, the perfect scenario for (actually) falling in love in the eyes of Netflix. 
This 2-hour movie has a lot of ups and downs, but it is the classic cheesy Netflix romance, extremely predictable from start to finish. While watching the movie I noticed how basic it was and coming into it I had low expectations for the way I thought it was going to turn out. This is because the movie was very similar to Netflix's other love stories, such as After and The Kissing Booth, To All The Boys I've Ever Loved etc., are all very alike and similar to Purple Hearts, where two people that are polar opposites cross paths and end up falling in love "unexpectedly".
After hearing about Purple Hearts from several peers, I decided to take it upon myself and see what everyone was talking about. While watching the movie, I noticed that Cassie singing and performing with her band tended to occur very, very often, too often. The film contains a lot of fillers and there are a great variety of scenes that are unnecessary, making this movie drag to the end For example, Cassie performing, unnecessary conversations between Cassie and Luke and random scenes where they were interacting with irrelevant characters were all just fillers to extend the movie. The ending was very expected and didn't have any big plot twist nor did the storyline have any unexpected situations, making the plot very unoriginal. As for the characters themselves, Cassie's character is very similar to any other female protagonist in a romance movie. She's closed off, focused, broke, one-track-minded, and radiates the starving artist persona. She has a wall up for half the movie but in the end becomes vulnerable, typical. She was an activist in her community and a stereotypical leftist. Cassie is an anti-military, democratic Latina and Luke, a military republican who dislikes immigrants makes a big contrast between the two's opinions. This part of their character made the movie very corny and dramatized the way people with her beliefs are. 
Though this movie was your typical Netflix love story, it was heartwarming, emotional, and eye-opening. It gave you an idea of what many Americans have to go through when not having enough money for health insurance, and what people will do in desperate situations. Purple Hearts was rated 3 out of 5 stars, I agree that the movie deserved that rating because of how surface-level the plot was. On a scale of 1-10, I would rate it 6 because of how verbatim it was to other Netflix movies, just different plots and characters. I would definitely suggest this to people who love cheesy romance movies and just want to watch a quick "chick flick".  But I do believe that there is a deeper meaning behind the movie, which makes it worth watching, like how souls can connect in polar opposite backgrounds, beliefs, and situations and both need one thing to fix their problems. 
Leave a Comment
About the Contributor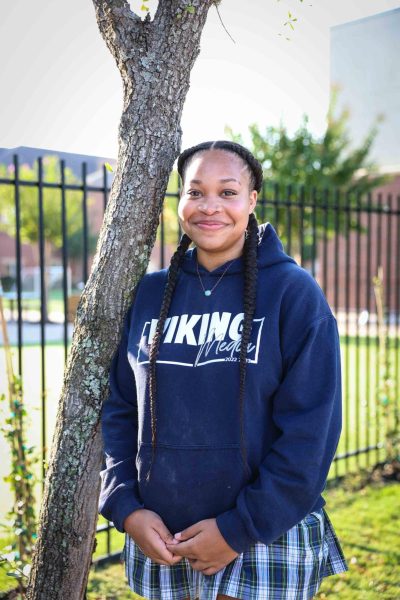 Jordan Caffey
Jordan Caffey is a senior writer and this her second year in journalism. She was first interested in journalism because her passion for writing and speaking...