All Together Now: A heartwarming but predictable quarantine film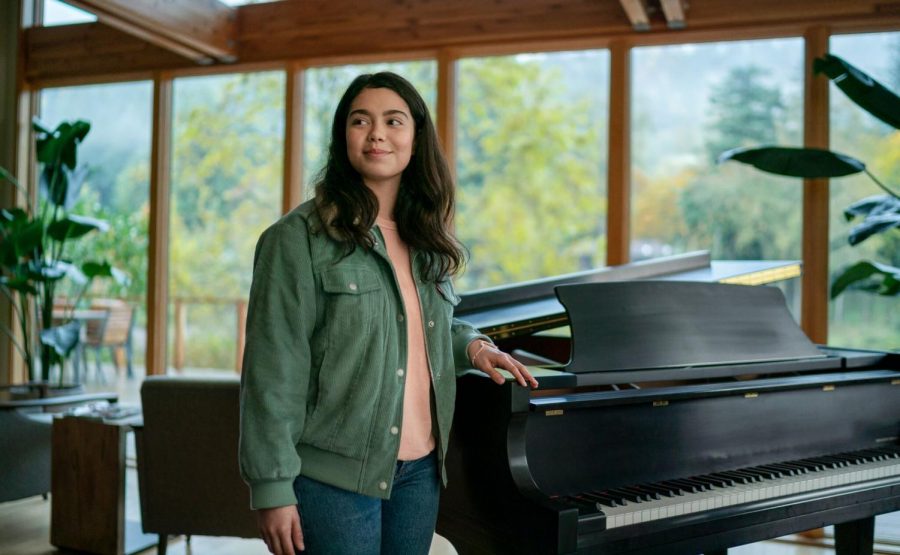 Mood-boosting, feel-good movies have become an entertainment must in households nationwide amidst the COVID-19 pandemic. And with a majority of movie theaters being shut down or having implemented strict social distancing and capacity guidelines, an unexpected positive of this devastating crisis has been the early and immediate release of movies on popular streaming platforms. 
One such film is All Together Now. 
Released on Friday, August 28, 2020, this feel-good movie tells the story of an optimistic, talented teenage girl clinging to a dark secret – that she is homeless and living on a school bus. 
Directed by Brett Haley, best known for his work on The Hero and Hearts Beat Loud, All Together Now beautifully illustrates the obstacles faced by Amber Appleton, a talented high school singer who not only juggles multiple jobs to stay afloat and is homeless, but attempts to hide these darker aspects of her life from those around her – even her closest friends. When she gets an offer to audition for Carnegie Mellon, her dream school (and the one her late father attended), she is torn between her dreams and loyalties to her mother. 
Portraying the main character is American actress Auli'i Cravalho, who made her acting debut in the 2016 Disney animated film Moana. In this heartwarming tale, Cravalho's earnest-but-never-corny acting proves to make Amber a lovable character that the audience can sympathize with, although the script does force her to fall into several clichés. Acting alongside Cravalho are Justina Machado, Carol Burnett, Judy Reyes, and Fred Armisen, who all serve as a great balance to her character's near-perfect persona.
One aspect All Together Now navigated very tactfully was having a character, Amber, who is so nearly flawless without turning into a saint. While Amber checks so many boxes of trait perfection (she volunteers at a retirement home, teaches ESL classes, etc.) a worse film would have dehumanized her character. However, Cravalho's honest acting brings some humanity to her character and the film as a whole.
Although Amber feels very real and honest, a screenplay riddled with clichés and predictable plot points draws away from the humanity of Cravalho's character. While the credibility of the main character is built extremely well in the first half of the movie, an unsurprising conclusion wherein "everything works out in the end" makes this a cringy film at times.
Rotten Tomatoes gives All Together Now a solid 74%, with audiences having a similar reaction at 78%, and IMDb gives this film a 6.5/10.
Overall, this feel-good film about a sweet and scrappy young teenager torn between her dreams and her loyalties is a heartwarming watch, with a strong sense of hope laced throughout, albeit being predictable and cringy at times. But as All Together Now is filled to the brim with hope and feel-good plot points, it is the perfect quarantine watch. I give this a 7.5/10.