TED-Ed Club Spotlight
Sharing thoughts, experiences, and ideas within the constraint of 18 minutes on a global platform is what the Technology, Entertainment, and Design Talks (TED) are for. TED Talks, the non-profit organization founded in 1984 hosts people from different backgrounds, communities, and cultures and allows them to inspire the world with their brief, yet empowering speeches that are posted online for free.
As a part of their youth and education initiatives, the organization started TED-Ed to spark and celebrate the ideas of teachers and students around the world in innovative and engaging ways.
At The Village School, the TED-Ed Club supports high school students in discovering, exploring and presenting ideas in the form of TED talks where students work together to discuss and celebrate their differing approaches. Senior Vy Thai, the President of the TED-Ed club, started the club in 2017 to overcome the stereotypes and underestimation that day-students at Village hold towards international borders and to be able to share "ideas worth spreading." It's where others have the opportunity to meet and listen to students who are eager and willing to turn their interests and passions into a well-planned, TED Talk presentation.
"Being born and raised in a poor village, I have always had the desire to foster knowledge so I could contribute to my hometown," Thai said. "This strong determination bounces me back whenever life knocks me down. Experiencing that diverse community [at Village], I understand the significance of empowered voices."
Ever since the club's launch, Thai has successfully organized the three TED-Ed events, the most recent being on the 11th and 12th of April 2019.
"Last year, the club only had a few members," Thai said. "Our club was under official collaboration with TED, [so we] followed their guidelines on how to lead. This year, we changed the curriculum a little bit. We didn't 100% follow TED's instructions. Instead, we added more interactive activities which mainly focused on four essential components: Creativity, Logical Thinking, Speaking Skills and Finding Your Passion. I think with that improvement, our club became more attractive, and as a result, more people joined."
When Thai had originally wanted to start the club in his junior year of high school, he  approached his English teacher, Mina Petrolito. Since then, Thai and Petrolito have been able to mirror their visions and goals for TED-Ed club for the past two years.
"He told me he wanted to start an official TED club, registered by students, for students, and I was all in," Petrolito said. "The most amazing part of it was that we had similar goals. We both wanted to be able to get residential students talking about things that mattered to them, alongside day students, in the true international spirit of our school."
Petrolito believes that the most exciting thing about the TED-Ed Club is the bravery and camaraderie that has bonded the students with one another, as well as the fact that students are sharpening their rhetorical skills without even realizing it.
"To watch each of them bounce ideas, criticism, and feedback off of each other to help each other deliver a tailored message has been the joy of my teaching career," Petrolito said. "With a little help from their friends and input from a teacher, they can find new ways to appeal to their audience, tailor their words, and share their stories in a meaningful way–skills they need to be developing during their high school careers to help them in their future careers."
The TED-Ed Club has taught Thai so much and now has become something he is immensely proud of. English is not his first language, which led him to struggle with taking lead in the start with, yet his boundless energy and strong community spirit outweighed this language barrier for him, as well as for other TED-Ed club members.
"I have learned a lot – not only how to improve leadership skills but also many valuable lessons from every individual's unique story in this diverse community," Thai said. "The fact that we have an equal number of day-students and dorm-students [in the club] and [that] we have built a strong community and relationship with each other without any barriers or stereotypes makes me proud. It tells me that my aspirations for the club had been achieved."
"It's so motivating to see students communicate with each other in this way," Petrolito said. "It is truly what makes Village great."
About the Contributors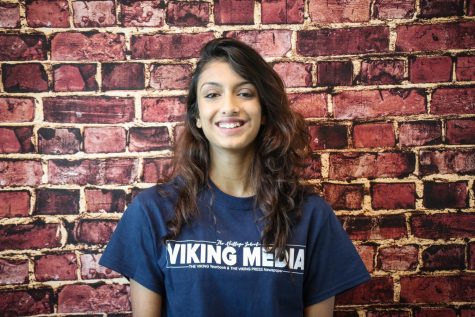 Duaa Naveed, Staff Writer
Duaa Naveed is a sophomore, and this is her 5th year at Village and 2nd year on Viking Press. She enjoys photography, listening to music, and playing lacrosse....